At present, there are two major misunderstandings in the conference recording and broadcasting machines on the market. One is blind pursuit of high-end, multi-productive products, and the other is that low-level video boxes are also participating in the conference video competition. Some VCR brand models are large, embedded in the recorder, display and various complex interfaces, multi-machine multi-disc, must be connected to the computer, the interface is cumbersome, and even some of them are only used by professional TV stations. The window interface looks tall and full of functions. However, not only is the operation very complicated, it is difficult for ordinary people to use it, and many functions are cumbersome. It is not used in general conference recording, and the functions actually used are few. Such products, professional video capture, editing, live broadcast units use, the grade is too low, and for regular conference video, it is mostly chicken ribs, the product cost is high, the customer purchase price is greatly increased, each part uses cheap raw materials, Product quality is not stable.

There are still a lot of small boxes on the Internet that are very cheap, and they are also said to support all kinds of conference videos. However, these products only take the input interface corresponding to the conference terminal equipment, and have simple functions with thin functions and poor performance. Operation, this low-cost box originated from the low-end capture card, mainly used for personal recording of simple games, live mobile phones, recording small video use, similar toys, if you use these products for conference video, equivalent to mosquitoes, aircraft, most It will cause the recording to fail or the recording effect will be extremely poor.

Shenzhen Chunyuan Liying Electronic Technology Co., Ltd. has been focusing on high-definition video recorders for more than ten years. The conference video recorders have been abandoned, and they have abandoned the above two drawbacks. They are not impetuous and not prosperous. They are only practical, reliable, stable, concise and affordable. The actual needs and targeted customization, to achieve the "targeted, practical, custom" three characteristics, thus meeting the "easy operation, affordable" customer requirements. Not only saves customers money, but also makes it easier to use. The Chunyuan Liying Conference video recorder includes two categories: local conference video recorder (including endoscopic laparoscopic video recorder) and video conference recorder. The main functions are as follows:

1. What output interfaces are available to the customer's front camera and how many output interfaces are available, and the corresponding recorder models are configured.
For small conference rooms or video conference recordings, it is recommended to use the WHD-01 model with only one HDMI (DVI) input video. If it is a medium-sized conference room video, it is recommended to use the WHD-02 model, and then a large-scale conference room or venue video, it is recommended to use WHD-03, WHD-04 and so on.

2, compatible resolution frame number is wide, support most of the customer's camera input recording requirements Chunyuan Liying WHD series video recorder, support input resolution from 1080P60hz to the following various parameters are fully compatible, including all the parameters of the current mainstream camera, including The resolution frame number of most matrix output interfaces.

3. The audio configuration is scientific, which can meet the local conference and the audio and video synchronization recording of the video conference. The WHD series conference recorder has a good mixing recording function. It supports both HDMI audio input and HDMI without audio input from the corresponding analog audio interface. It also supports HDMI-containing sound and mixed audio input from the analog audio interface for complete audio and video synchronization. In particular, various video conferencing terminal devices have problems in that local audio cannot be output, and the mixing function is more important.

4, recording resolution has reached a particularly high level at home and abroad WHD series conference video recorder recording resolution is pure digital 1080P30 \ 25hz, is currently the high-end level in the domestic and international video recorder industry.

5, stable, safe, reliable, long-term continuous recording WHD series conference video recorder, using engineering-grade motherboards and expansion materials, even if continuous video recording for dozens of days, will not crash damage, to ensure the stable use of important conference video. The video format is a standard HD video H264 file that will not be lost due to a sudden power outage. When copying and copying, you can select the AVI format, which brings convenience for subsequent editing and playback. The machine supports two built-in large 3TB hard drives and supports continuous video recording. Both hard disks can be set to cycle recording or set to redundant recording. The same file can be recorded on two hard disks at the same time, ensuring that the non-reproducible data of the conference recording can be reliably saved.

6. Support multi-input interface at the same time or optional recording, realize 1-16 input interfaces for panoramic acquisition. No matter how many channels are input, you can freely select the number of recordings. You can live in multiple channels without delay and multi-channel HD. Watch while watching, while watching and recording; flexible and convenient, simple and convenient!

7, video, playback mode flexible and diverse WHD series video recorders, you can boot automatically, one button to open or stop recording, any time recording, scheduled recording, motion detection video; you can record while recording, while recording; can multi-channel Input without delay in live broadcast, multi-channel simultaneous or optional one-way playback or one-button single-channel full-screen playback. The timestamp can be turned on or off.

8, support network remote live broadcast Internet, LAN remote mobile phone, computer live broadcast, voice intercom; remote computer download, on-demand, computer video and basic system settings on the remote computer.

9, with HDMI, VGA, AV output interface, support for old and new TV, display display Display system menu, support wired, wireless mouse operation, simple and convenient.

This article gives a brief overview of the market overview and functional characteristics of the current conference video recorders. For more details of the conference video recorders, please visit the online search "Spring Source Liying" to log in to the company network!
Steel hole punch machine
Cnc plate punching machine suppliers/factory
cnc sheet metal punching machine R & D and manufacturing,
Shandong SF CNC Machinery Co., Ltd. is a grand manufacturer of Transmission tower machines in china. With 13 years` experience in this line, we are committed to producing only the finest products to our customers.
In 2019, we appointed Jinan JUFU International Co.,ltd to specially export our machines to abroad markets. And now we have a special engineer team for oversea market, and we are able to offer customer timely service,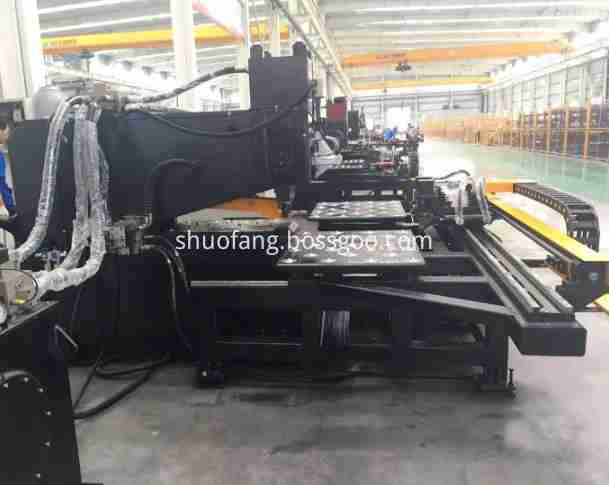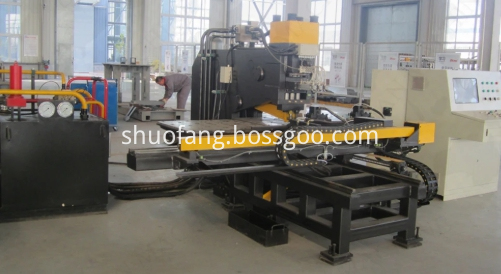 Look forward to your cooperation!
Steel Plate Punching Machine
plate punching machine,cnc sheet metal punching machine,steel plate hole punching machine,metal sheet hole punching machine
Shandong ShuoFang Environmental Technology Co., Ltd. , https://www.chinafincnc.com