Air Compressor Total Power:
8.5kw
Washing Machine Total Power:
0.2kw
Transport Package:
Wooden Case
Origin:
Quanzhou, Fujian, China
Water pipe cleaning device  questions.
What is it used for ?

It is used  for   peeling off the dust on the inner wall of the water pipe. Usually, as  the water pipe has conveyed water for a  long time , the dirt on the inner wall will precipitate seriously, so we need to wash them to help protect our water. 

What is the washing theory?

High pressure ultrasonic  vibration theory or radiofrequency washing theory .

How many times can it put into use ?
It is for permanent us.  In China ,It is made for our housekeeping  workers  to offer paid service  and  one time of wash costs  more than 50 us dollars .

Can I place OEM orders?
 
We can customize it according to your requirement.


Is the cleaning process complex or not ?
You need to know the washing procedure , for more information , please contact us . 
Water pipe wash machine using guide
Material: air compressor, high frequency pulse wash  machine , citric  acid  ( limited in offering  ,and you can buy it in your own market), water bucket (prepared by yourself) and attatched  transparent hoses.

Preparation stage
Turn off your water total valve ( one house one total valve , if you can not find it , maybe it is near your water-meter).

Cut off all the household electrical appliances which have been connected to your family resources (water tap).

Turn on one faucet , remove excess water. After all the water has been removed , turn off the faucet again.
Device connection
Select another faucet as the role to convey water from pulse wash machine into water pipe( connect pulse exit to  this faucet through transparent pipe), connect air compressor to  pulse wash machine , and connect bucket water to another nozzle ( liquid  inflow ) through another transparent pip. Connect power supply.
machine turning  on 
Press the red button on the air compressor and turn on the total switch of the pulse wash machine.
Pressure inspection stage
Adjust the air presser control to 3kgs ( the secure air-presser is 3 kgs ,if your water pipe is young or less than 10 years old, it can be adjusted higher , mostly you need not more than 5 kgs  air pressure and you should protect your water pipe, the adjusted air presser is shown in the pressure control ).

Press the pressure inspection function  in the LED screen ( or A in the remote control).

Wait till the pressure gauge rise onto 3 kgs  , then  turn on again one faucet to remove excess water again, after water has been moved up, turn off the faucet. (if the needle in the pressure gauge drop down ,  investigate every tap in your house to confirm every tap has been closed down, then restart this step )
Acid water injection stage
Pour hot water( 60-70 centigrade) and citric acid into the water bucket.

Press B button  in  the remote control or pump function in the LED screen , the acid water will enter into your family water pipe through the pulse wash machine ,

If you are sure all the water in the bucket has been sucked up, press B button again in the remote control to close this function, and keep the acid water in your family water pipe for 40 minutes .
Washing  stage
40 minutes later, prepare clean water same to acid water in volume into the water bucket . Keep the liquid inflow still connected to bucket.

Open one faucet , press D button in remote control or pulse and pump function in the LED screen. You will see dirty water go out of the faucet. Keep it on until water in your family pipe has all gone out.
Pulse stage
The final step is the pulse process .Open any faucet , and press the C in the remote screen or pulse function in the led screen . If you feel the water from the faucet becomes clean ,you can turn off the faucet .

Be sure all the faucets have gone through the pulse process.
End stage
Turn off the red button on the air compressor , then switch off the wash machine and disconnect all the connection .
Important notice:
Be sure none of  your household appliances are  in connection to your water resources when you are in washing stage .
One bag of citric acid can wash almost 130 square meters' flat size . The weight proportion of citric acid to hot water is 1:15 . You can measure your citric acid usage level according to this principle .
any further information or questions , please contact us . 
 total weight 50kg include citric acid (25kg) + air compressor (13kg) +pulse washing machine (13kg)
Deao and BTB Engineering from Germany deeply cooperated for the scale brewery design and fabrication.
5 Vessel Brewhouse is in sizes from 30HL to 60HL. Modular design and starndard CIP system, partial automation or fully automation. Vessels options are availabe to meet customers' need. Automatic control of cellar tanks, manual or automatic operation for Beer Tanks are available.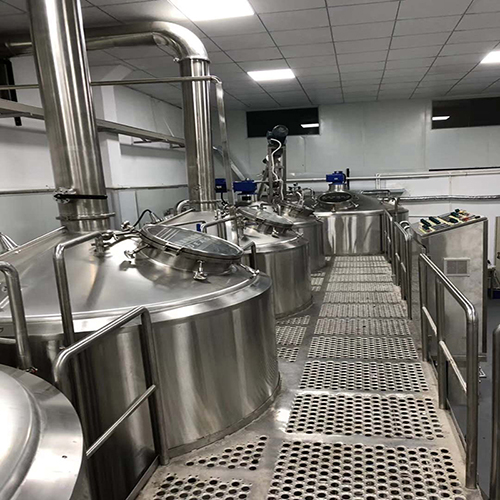 5 Vessel Brewhouse
Beer Brewing Machine,5 Vessel Brewhouse,Brewery Equipment,Craft Beer Equipment
Dongguan Deao Food Equipment Co.,Ltd , https://www.craftbrewtech.com