The Wuling Company, which is located in Liuzhou, once again made a surprising move with a low profile. Recently, Liuzhou Wuling led other car companies and became the first Chinese car company to export electric cars to North America.
The first batch of 100 electric vehicles sold in the United States
The Nanfang Daily learned from Liuzhou Wuling yesterday that the company's first 100 pure electric mini trucks and trucks have been successfully exported to North America. These vehicles can legally travel on American roads, but the speed is limited to 40 kilometers per hour.
"We started this matter several years ago with the aim of opening up overseas markets." According to the person in charge of Liuzhou Wuling, the company cooperates with AmAsia International Automotive LLC. Liuzhou Wuling's special-purpose vehicle company is responsible for the research and development of micro-electric vehicles, and Meiya International provides Wuling Automobile with access to the United States.
According to reports, North America has a good demand for such miniature electric vehicles, and "going out" is the established strategy of Liuzhou Wuling. The goal of Meiya International is to become one of the first companies to introduce Chinese-made cars into the U.S. market.
In terms of exporting automobiles to North America, Changan Automobile in China has achieved a "zero breakthrough". Last year it successfully exported special vehicles to North America, but Wuling achieved a breakthrough in exporting electric vehicles to North America. At present, domestic automobile companies have cooperated with local companies in North America to open up access to this market. Changan is teaming up with Magna, first exporting Changan cars to Mexico, and then to the most important North American market. About two years later, BYD Auto is expected to use the aid of Buffett to export electric cars to North America.
Disadvantaged development of SAIC-GM-Wuling
Liuzhou Wuling relevant person in charge said that a miniature Electric Vehicle named SMILE-E has been trial-produced prototype car, into the late development. This new model will also supply the North American market. Product development is mainly focused on the team of Wuling engineers, but the products are tailored to the specific needs of the North American market.
Liuzhou Wuling and Meiya International also plan to sell North American high-speed cars that can meet US standards in the future.
News from other sources also showed that Wuling engineers are still renovating the SAIC-GM-Wuling mini trucks and vans for the US market. These products are also low speed models that will meet US federal safety standards.
However, the person in charge of Liuzhou Wuling who was interviewed believed that Liuzhou Wuling and SAIC-GM-Wuling, a joint venture between Liuzhou Wuling and Wuxi, have implemented misplaced development. SAIC-GM-Wuling is a large micro-vehicle in China and will also launch mid-size cars in the future. Liuzhou Wuling focuses on the field of special vehicles. When SAIC-GM-Wuling sold micro-vehicle products to rural areas, Liuzhou Wuling concentrated its efforts on the development of micro-electric vehicles and eventually achieved its goal of entering North America.
Goodsense forklift new generation diesel counter balance forklift advantages:
1.Strong Power System.GOODSENSE forklifts are all with reliable power accessories.All accessories like engine, gear box are support by domestic and world famous brand, high quality, reliable after-sales.We follow the strict environmental design,all engines match the China â…¢ or even higher emission standards.
2.Super comfortable.GOODSENSE forklifts are all with comfortable driving space,adjustable steering wheel and seats,super low and non-slip step,suspension steering axle,storing space,and convenient LCD panel.
3.High Security.Whole perspective mast and backrest, super good view,high strength overhead guard,high place security combination lamp,neutral security features,parking brake,fork lock function(optional),all for safety.
General

Model

FD10

FD15

FD18

Power Type

Diesel

Diesel

Diesel

Load Capacity

kg

1000

1500

1800

Load centre

mm

500

500

500

Tyre

Tyre

Pneumatic Tyre

Pneumatic Tyre

Pneumatic Tyre

Front Tyre

6.50-10-12PR

6.50-10-12PR

6.50-10-12PR

Rear Tyre

5.00-8-10PR

5.00-8-10PR

5.00-8-10PR

Overall Dimension

Lift Height

mm

3000

3000

3000

Fork Size

L×W×T

mm

920*120*35

920*120*35

920*120*35

Mast Tilt Angle

F/R

.

6/12

6/12

6/12

Mast Lowered Height

mm

1995

1995

1995

Mast Extended Height(with backrest)

mm

3940

3940

3940

Length to face of fork(Without fork)

mm

2205

2285

2285

Overall Width

mm

1086

1086

1086

Overhead Guard Height

mm

2040

2040

2040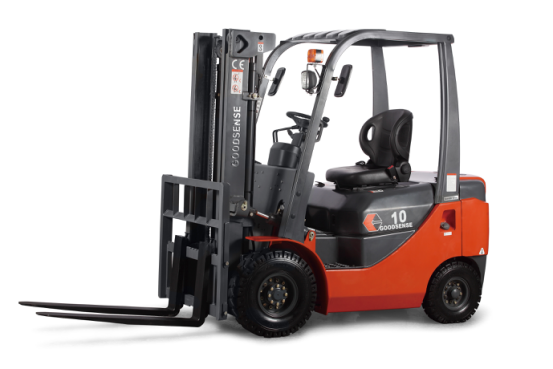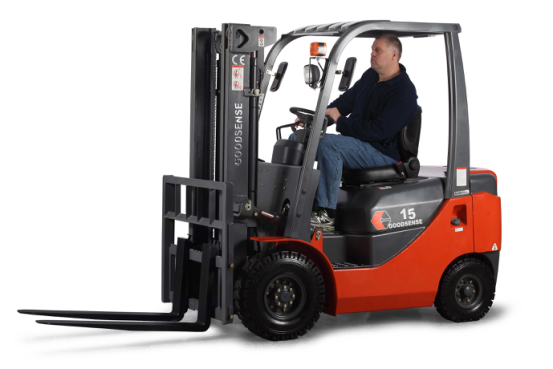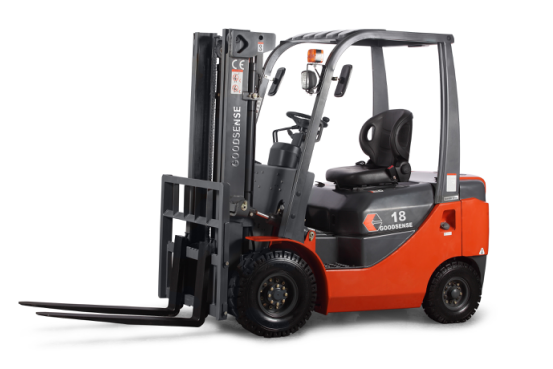 Application Area:
1.Warehouse
2.Port
3.Factory
4.Distribution Center
5.Logistics
If you have any other questions,please contact us directly.Our forklift are all with high quality,and you can choose any other engine to equip.It can be produced according to your idea.And we invite you to visit our factory.
1.0-1.8Ton Diesel Forklift,1.8Ton Diesel Forklift,1.0Ton Diesel Forklift,Mini Forklift
ZHEJIANG GOODSENSE FORKLIFT CO.,LTD , http://www.goodsenseforklift.com