The "12th Five-Year" National Support Plan "Highly Available New System AIS Ship Autonomous Navigation System" project implemented by the Ministry of Transport successfully passed the expert acceptance organized by the Ministry of Science and Technology. The expert group believes that the project is using AIS for ship space. The original results of the land-based dual backup positioning navigation technology.
In order to improve the safety of coastal vessels, and to ensure the normal operation of the AIS system when the GNSS signal is not available, the project aims to break through the key technologies of the AIS ship autonomous navigation system series of the high-availability new system, and develop a new system ship autonomous navigation system ship. The prototype of the terminal equipment will be established, and the verification system of the new system ship navigation system will be established. In the future, the new system and standard of China's space-based and land-based dual backup positioning system will be launched at the International Maritime Organization (IMO) to enhance China's international discourse on the technology. right. The project is jointly implemented by the Ministry of Maritime Affairs, Dalian Maritime University and the Royal Naval Academy.
After three years of hard work, the project has overcome a series of key technologies and achieved a number of independent intellectual property rights. The space-based and land-based dual-backup coastal navigation system based on AIS-based ship autonomous navigation system was first introduced. The modified AIS ship autonomous navigation system has a positioning accuracy better than 10 meters, which is in line with the IMO coastal ship navigation accuracy requirements, which indicates that China's coastal land-based ship navigation system with independent intellectual property rights will greatly improve the international competitiveness of China's ship navigation technology. The project has obtained 4 national invention patents, 13 public publications, and 45 papers published in SCI/EI.
Concrete Spun Pile Mould is a kind of Steel Mould, it is mainly apply to Concrete Spun Pile Plant to produce the Centrifugal Reinforced Technology (PHC ) Concrete Spun Pile, In order to meet customer's requirement to produce high strength PHC concrete pile, Jiangsu Haiheng Company have long term cooperation relationship with Japan spun pile factories for improve the design and technology of mould and use advanced processing equipment, HH's Spun Pile Mould has got the leader market share in the countries like Japan, Vietnam, Indonesia, Malaysia, Thailand, Myanmar, Cambodia etc.
Our Mould Advantages:
1. Mould's tongue-and-groove is designed by the dislocation of upper and lower shell boards, matchboard is plane surface. Slurry does not leak and it is easy to clean mould.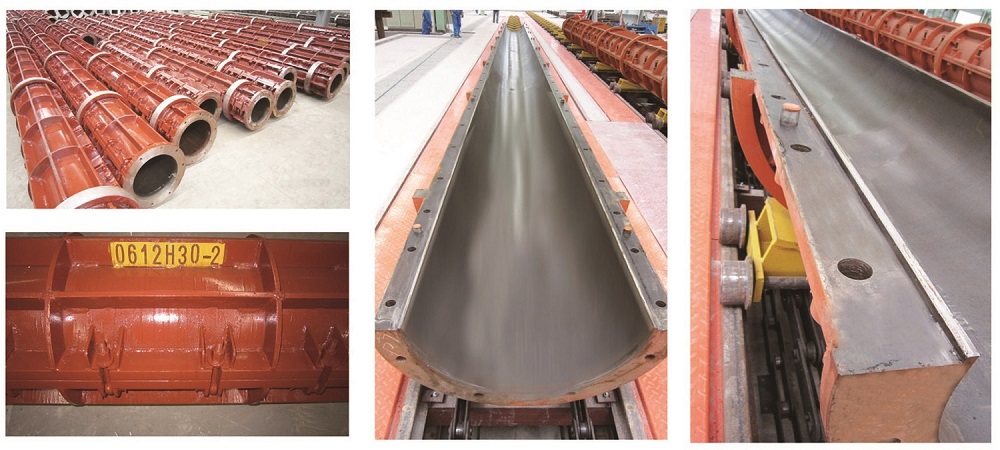 2. The tyre is "T" type forgings. Tyre and its support plate are as whole.
3. Self-developed six-meter press machine of mould inside shell. The inside shell seam extends from two meters to six meters, to minimize welds and mould strength and improve the external appearance of the products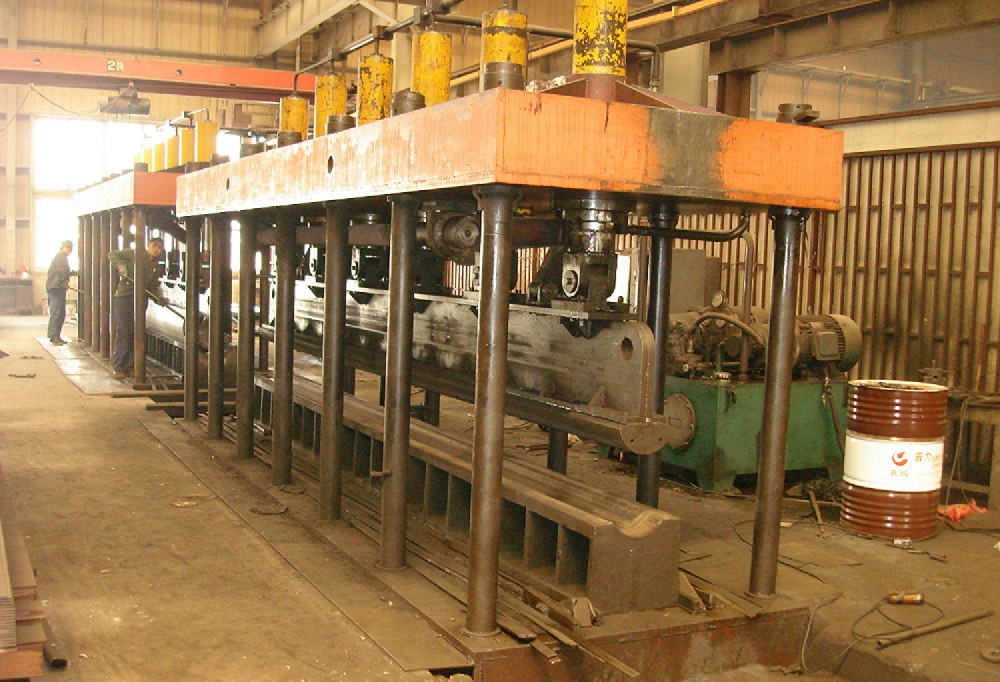 4. Welding process uses CO2 arc shield weld which makes its appearance simple and weld seam neat. Our company cooperated with colleges to introduce [robot welding project".
5. Long lathe, manufacture the whole set mould under fifteen-meter length, greatly increases concentricity of the tyre and flange.
Spun pile Mould Specification:
| | | | |
| --- | --- | --- | --- |
| Inside diameter(mm) | Wheel base(mm) | Wheel Diameter(mm) | Length(mm) |
| Ø300 | 2000 | 510 | 7-11 |
| Ø350 | 2000 | 610 | 7-11 |
| Ø400 | 2000 | 610 | 7-12 |
| Ø450 | 2000 | 710 | 7-12 |
| Ø500 | 2000 | 710 | 7-12 |
| Ø550 | 2000 | 810 | 7-12 |
| Ø600 | 2000 | 810 | 7-15 |
| Ø800 | 2000 | 1010 | 7-15 |
| Ø1000 | 2000 | 1210 | 7-15 |
If you have any questions, please contact with us directly. Concrete Pile Moulds are produced by High Quality and Esay transportation, quick assembling, good rigidity and smooth working. Welcome you can visit our Factory.For inqury,Please send mail directly to us.
Concrete Spun Pile Mould
Concrete Spun Pile,Reinforced Concrete Spun Pile Mould,Phc Spun Pile Mould,Pretensioned Concrete Spun Pile Mould
Jiangsu Haiheng Building-Materials Machinery Co.,Ltd , https://www.jshaiheng.com